Verifacto is a leading provider of cloud-based software enabling auto dealers and lenders to effectively track their customers' auto insurance status. Our platform provides a comprehensive and effective solution to help dealers and lenders manage, mitigate and reduce insurance risk. We do this by effectively communicating with drivers which increases the number of people in your portfolio who are driving with proper insurance coverage.
Not only is Verifacto a leader in insurance tracking, clients can enhance their communication with Payminders™ to ensure loans are repaid in a timely manner.  Contact Verifacto today and start with your demo.
On Day 1 – 62% of the portfolio's vehicles have issues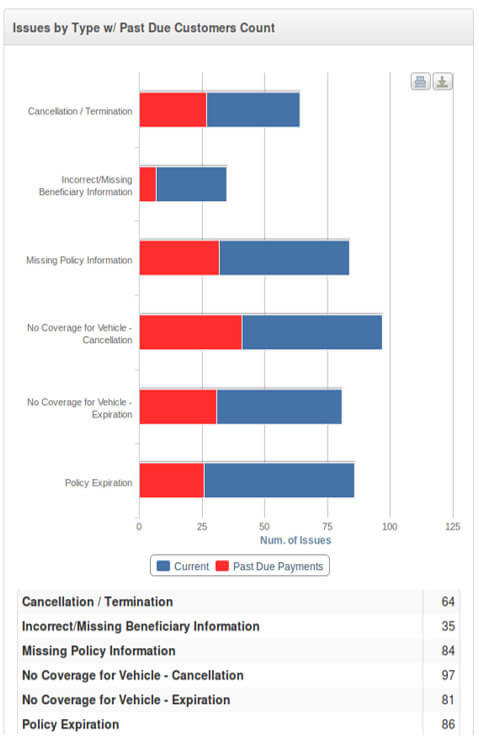 447 Critical Issues – 62%
After 90 Days – only 15% of the portfolio's vehicles have issues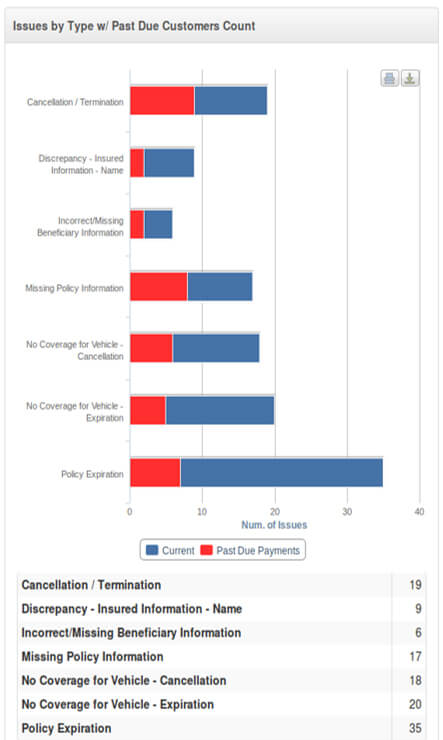 115 Critical Issues – 15%
Automobile Insurance Management Made Easy;
Solutions for Auto Dealers
1 out of every 5 cars in the US is Uninsured. In many portfolios, the risk may rise to 1 out of 2 that are either Uninsured, Under-Insured or Improperly Insured.
Car Dealers providing in-house financing, Buy-Here-Pay-Here (BHPH)
There are many nightmare scenarios that can expose you to an insurance loss. Take a look at a few of these scenarios.
Is your customer carrying collision and comprehensive coverage?
Do they carry high deductibles?
Are you listed properly as Additional Insured or Lienholder?
Is your customer an Excluded Driver or not a Listed Driver on the policy?
If your answer is "Yes", then you probably know how tedious, time-consuming and labor-intensive the process of tracking, verifying and communicating is with the various parties. Since it also involves manual labor, there is a high probability of potential errors. Issues may fall through the cracks or are not handled in a timely manner, this can prove to be very costly. Failure to manage your assets and collateral properly could leave you holding the title to a nonexistent vehicle with no recourse.
If your answer is "No", then you are taking a high and unnecessary risk. You are gambling and the stakes are high in your business. There is a chance you have already experienced monetary loss from customers who are not being properly insured. Don't let it happen, with Verifacto you can be on the side of increasing your PROFITS and customer service while reducing your risk.
Solutions for Auto Finance Companies
As a finance company you have millions of dollars in your portfolio that are tied to thousands of cars that represent your collateral. You probably receive hundreds of insurance notices on a daily basis and if you are relying on your staff to keep-up with mail notices and follow up on each issue, you maybe subjecting your staff to an almost impossible task, and exposing your company to losses related to uninsured or improperly insured collateral. The Verifacto On-line Management, Tracking, Verification and Communication system provides your employees the tools and empowers them to work effectively, improve your company's operational efficiency and materially reduces your company's risk of loss.
Solutions for Lessors
Lessors and owners of a leased vehicle may have additional risk exposure as an additional defendant in legal action. Although the Graves Amendment (49 U.S. Code §30106) provides lessors certain protection in the case of leases, by asserting that the owner of a motor vehicle who leases such vehicle shall not be vicariously liable for harm that results from its use, operation or possession during the period of the lease. Its is critical that lessors alleviate the added exposure by requiring the lessee to carry higher liability insurance coverage, to identify the vehicle as a leased vehicle and to be named as additional insured or additional interest on the policy. Verifacto tracks leased vehicles, coverage amounts and ensures that the lessor is properly listed as additional insured or additional interested party.
Benefits for Auto Insurance Companies
Verifacto is the "last mile" solution, and from a revenue perspective the most important mile in the insurance status and notices reporting requirement. We help you convert a regulatory requirement into a sales retention tool by engaging the insurable interested party and their customers (which are your customers) in real time. Automobile insurers spend millions of dollars on an annual basis notifying lienholders and additional insured on policy changes. The current methods of providing notifications are antiquated, inefficient and costly. Mountains of paper are generated, which overwhelm lienholders, claims can result if the lienholder is not properly notified. Keeping up with changes of addresses, loan portfolio transfers and erroneous data entries make this legal requirement an expensive, high risk, time consuming back office operation. Integration with Verifacto can provide insurers effective direct communication with the lienholder and your mutual customers.
Since automobile insurers are required by law to notify the lienholders and additional insured when any change occurs on an automobile insurance policy, they mainly provide the notifications for the purpose of compliance with the law. However, notifications, if used efficiently, can become a significan source of income retention. By integrating with Verifacto via EDI, FTP, FTP with PGP Encryption and VAN, insurers will improve the timeliness, accuracy and reliability of communication via seamless direct connection with lienholders and your mutual customers. As an automobile insurer you will significantly increase operational efficiency and will transform the way lienholders and your mutual customers react and deal with the immediate information they receive. This will result in insurers collecting premium payments faster, lower cancellation/termination rates, lapse in coverage and increase the timely renewal of policies.
Don't wait until you lose your next car. Get the peace of mind with Verifacto's Insurance Tracking Software. These benefits will lower your risk, save you time and allow you to increase your profits.
Mitigate insurance losses cost effectively
Reduce overall risk exposure
Cut overhead and increase efficiency
Automated communication with customers
Reliable and secure cutting-edge technology
Gain more control and visibility of your portfolio exposure
Increase overall portfolio value
Help you with compliance
Track compliance requirements per state
Stored customer's communication history
Automate communication with customers
Increase PROFIT
Makes your company more competitive
Verifacto offers many services to increase your profits. Increase your customer communication with PayMinders™. Contact Verifacto today and start your demo and increasing your assets.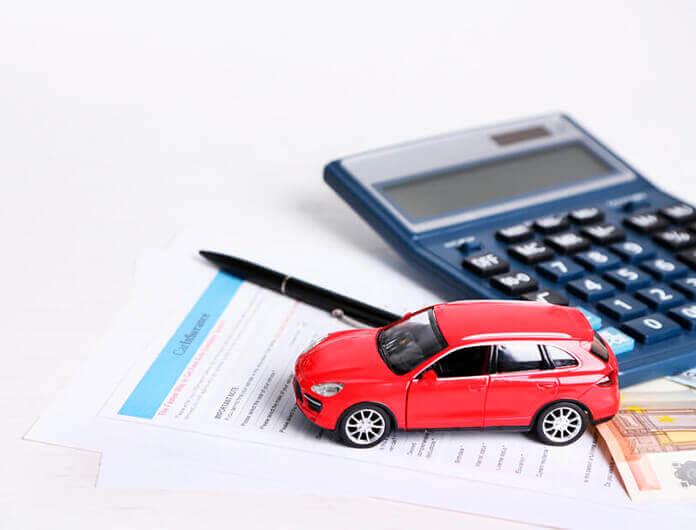 Game Changing Software
We Change Consumer Behavior.™ Unlike a late payment mail notice, which is perceived by your customers as a collection notice, and is probably tossed to the side and is never opened. The Verifacto Insurance management, tracking, communication and verification system initiates contact with your customer, via SMS and email, from day one. Once your customers become aware that their insurance is being closely monitored by you, the lienholder and/or additional insured, they perceive it as a compliance issue. Your customers will react and take action immediately in order to avoid having a force placed insurance issued on their vehicle, having their vehicle disabled, or having their vehicle repossessed.
You'll gain actionable intelligence with access to relevant data in context. Take immediate action, mitigate risk and achieve meaningful results. Verifacto™ enterprise cloud application gets you the information you need at a moment's notice. Insurance management, tracking, verification and communication will never be the same. Our software solutions provide a secure, intuitive, automated and cost-efficient communication built around the needs of each one of our stakeholders.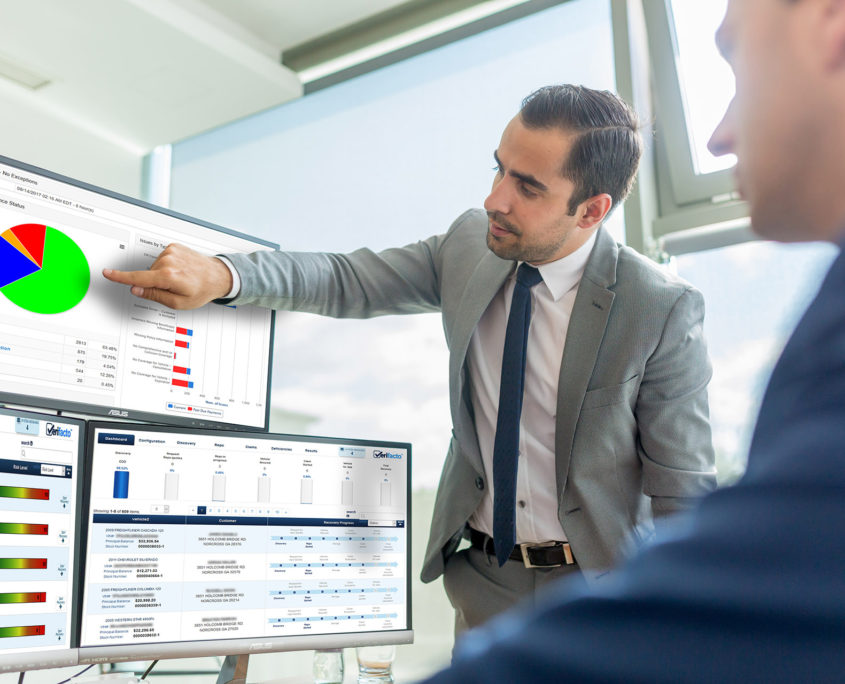 Designed with You in mind
Our team comes from the automotive, financial services, consumer finance, and technolory industries. We understand what your concerns are, and how you want to solve them. With that in mind, we always strive to find the best solution that would work for you.
Great User Experience – Our platform is simple and intuitive. We let you take care of business wherever you are, whenever, day and night.
We are Passionate about Innovation – We love finding simple solutions to complex problems using the latest available technology.
Agile – Verifacto's platform is highly configurable and flexible. You can tailor it to match the unique needs of your organization. Our Business Process Framework gives you the ability to configure and reconfigure settings whenever and wherever you need.
Real Cloud
Our software platform is hosted on the most robust, reliable and secure servers in the cloud throughout the U.S.
Multi-Tenancy – All our customers are working on the same version of the software.
Deployment and Updates – There is no need for expensive hardware and IT personnel. With new releases and updates, your configurations are preserved and seamlessly updated. You never have to worry about expensive maintenance costs or damage to your system.
Security – Verifacto uses time-tested secure protocols like HTTPS, the same protocol used by banks and other financial institutions. In other words, each user session is encrypted to prevent unauthorized access to data. We host our servers in SAS70 Type II data centers around the country. The technology stack we have chosen to use in the browser has inherent protections against vulnerabilities.
"Verifacto has proven to be our best resource when it comes to insurance tracking. They offer many resources that are unparalleled to the competition"
Bonnie WebbCollateral Protection Manager
Prime Acceptance Corp